THE LIVE SHOW!
RADIO FREAKS will bring their live show right to your venue! We currently offer 2 shows. For information on either of them please go to our DOWNLOADS page.
- Our smaller show provides between 30 and 90 minutes of fast-paced sketches, songs and improv. It's ideal for one-night performances and corporate events. We can also create original material catered to your company or event.
- PLEASE STAND BY is our new musical stage production, Suitable for all ages it features the manic comedy and songs for which the RADIO FREAKS are known.
RADIO FREAKS takes the manic fun of radio, the irrepressible energy of early television and a modern comic sensibility, mixing it together to create its own hilarious style.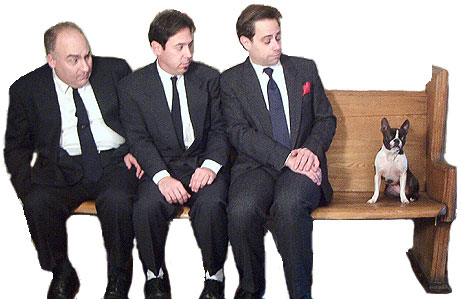 Your audiences will recognize the cast of RADIO FREAKS from film and television. Now enjoy the chance to see them perform live!
As they tour throughout Canada, RADIO FREAKS is perfect for anything from a one night to a one week booking. A convenient replacement for cancelled acts, RADIO FREAKS also makes a dynamic opener for large stage shows.
RADIO FREAKS has very light technical requirements, yet they have the comedic power to fill the largest hall. It's your all purpose, go anywhere, do anything comedy show!
For more information, please download our sales package in PDF format, by clicking here!
RADIO FREAKS: Where Radio and Comedy Collide!