Who Are These Freaks?!
RADIO FREAKS mixes the manic fun of radio, the irrepressible energy of live theatre and a modern comic sensibility to create its own hilarious style.
Their unique blend of "3-man standup" and comedy songs flies by with lightning speed in a truly original combination of music and comedy, written material and improv.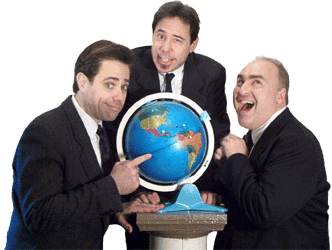 It's fast, it's funny, it's television, radio and stage all rolled into one!
Just click on the menu to find out more!
If you want to hear one of our songs,
please go to our Downloads page.
You can now hear RADIO FREAKS the first Tuesday of every month
from 10pm to 11pm (EST), on the Captain Dave Comedy Show,
live from Toronto on CIUT Radio (89.5 FM).
You can also hear them across Canada on the StarChoice Network (Channel 826)
and online at www.ciut.fm